Nano-Energy Laboratory

Prof. Keisuke SATO

Electronic Devices

Electronic, Information Systems
Generation and storage of clean energy by functional inorganic nanostructures
In our laboratory, we are developing novel inorganic/organic hybrid solar cells combining functional silicon nanostructures (nanoparticles, nanoporous particles, nanowires, naholes, pyramid, inverted pyramid, micro-desert textures and porous-desert textures) with organic conducting polymers and novel lithium ion battery using functional silicon nanostructure anodes, which not only enable efficient energy generation and high-capacity energy storage but also possess fruitful features such as reduction in manufacturing cost, enhancement of performance and durability, and extension of installation site.
For the improvement of the photovoltaic and battery performances of such hybrid solar cells and lithium ion batteries, we are exploring a variety of approaches, e.g., impurity doping, surface modification and formation of nanoporous structures for the functional silicon nanostructures.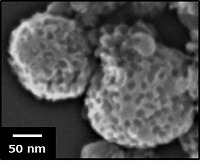 SEM image of silicon nanoparticles with mesopores.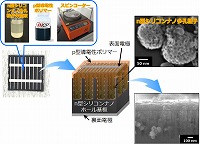 Cross-sectional SEM image of photoelectric conversion layer, materials and equipment of silicon nanoporous particles/conducting polymer hybrid solar cell.
Toward the realization of high-efficient hybrid solar cells and high-capacity lithium ion battery, our laboratory members are engaging on the improvement of the silicon nanostructures, the cell structures of the hybrid solar cells and the anode materials of the lithium ion battery.
Main subject
(1) Development of manufacturing technology of mesopore structures to functional nanoparticles toward realization of high-efficient quantum dot solar cells

(2) Development of nanovoid control technology to surface of confetti-like nanoparticles toward realization of high-efficient inorganic/organic solar cells

(3) Development of manufacturing technology of functional nanoporous particle anodes toward realization of lithium ion secondary battery with high-capacity and long-term stability
 This work was adopted by JKA and its promotion funds from KEIRIN RACE.