Name
Masakazu Kato
Position
Professor
Degree(s)
Doctor of Engineering
Main Subjects
Power System Analysis II
Power Generation
Workshop
Specialty
Electric Power Systems
Energy Systems
Mathematical Optimization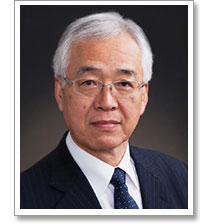 Field of Research
Planning, operation, control of Enery Systems
Environmental assessment for Enery Systems
Academic Society
IEEJ (Senior Member)
IEEE (Fellow)
IET (Fellow)
CIGRE (Distinguished Member)
Short Curriculum Vitae
3/1977 Bachelor of Engineering, Univ. of Tokyo
3/1979 Master of Engineering, Univ. of Tokyo
3/1982 Doctor of Engineering, Univ. of Tokyo
4/1982 Research Assisstant, Hiroshima Univ.
10/1984 Research Engineer, Toshiba Corp.
10/2005 Professor, Tokyo Denki Univ.
Mail
Selected Papers
Hideo Sugahara, Naoki Kamata, Yusuke Toda, Masakazu Kato, Kazuyuki Aihara: Integration of Incinerator Plants and Utilization of Forest Biomass on the Basis of FIT, IEEJ Trans on Power and Energy, vol. 135, no. 4, pp. 213–223, 2015.
Kenji Kashima, Masakazu Kato, Jun-ichi Imura, Kazuyuki Aihara: Probabilistic evaluation of interconnectable capacity for wind power generation, The European Physical Journal Special Topics, Springer-Verlag 2014.
R. Fukuda, T. Sato, M. Kato, "Study on Frequency Control Method to Suppress Power Flow Fluctuation with Uneven Distribution of Wind Power Generation" IEEJ Trans. on Power and Energy, vol. 133, no. 7, pp. 612–622, 2013.
T. Hiratsuka, K. Nozaki, M. Kato, Y. Hirata: Voltage assessment of distribution network with large penetration of PVs by probablistic approach, Renewable Energy and Power Quality Journal, no. 11, March, 2013.
S. Odate, M. Kato, T. Seki, M. Kondo,"Study onLong-term Generation Expansion Planning to Reduce CO2 Emmission" IEEJ Trans. on Power and Energy, vol. 131, no. 2, pp. 167–174, 2011.
Laboratory Introduction
Our laboratory, Energy and Environmental Systems Laboratry, is young and aggressive one. Why not young ambitious engineers join to our Lab?
Energy and Environmental Systems Laboratory