Name
Akinori Ueno
Position
Professor
Degree(s)
Doctor of Engineering
Main Subjects
Electronic Circuits I, II
Medical Electronics
Comprehensive Career Development in Electrical and Electronic Fields
Engineering English I
Electrical and Electronic Engineering Literacy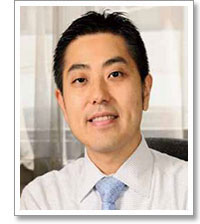 Specialty
Electrical and Electronic Measurement
Biomedical Engineering
Field of Research
Bioelectrical Measurement, Human Interface
Academic Society
IEEE, IEICE, IEEJ, SICE, HIS, Japanese Society for Medical and Biological Engineering, / The Society of Life Support Technology / Japanese Neural Network Society / JSAE / The Vision Society of Japan / Society for Neuroscience / Association for Research in Vision and Ophthalmology
Short Curriculum Vitae
March 31, 1994 Bachelor of Engineering, Department of Electrical Engineering, Faculty of Science and Technology, Keio University
March 31, 1996 Master of Engineering, Institute of Biomedical Engineering, Graduate School of Science and Technology, Keio University
March 31, 1999 Doctor of Engineering, Institute of Biomedical Engineering, Graduate School of Science and Technology, Keio University
April 1, 1999 Research Assistance, Department of Electronic and Computer Engineering, School of Science and Engineering, Tokyo Denki University
October 1, 2000 Lecturer, Department of Electronic and Computer Engineering, School of Science and Engineering, Tokyo Denki University
October 1, 2004 Associate Professor, Department of Electronic and Computer Engineering, School of Science and Engineering, Tokyo Denki University
April 1, 2007 Associate Professor, Department of Electrical and Electronic Engineering, School of Engineering, Tokyo Denki University
Mail
Selected Papers
A. Ueno, T. Yamaguchi, T. Iida, Y. Fukuoka, Y. Uchikawa and M. Noshiro: "Feasibility of capacitive sensing of surface electromyographic potential through cloth," Sensors and Materials, Vol. 24, No. 6, pp. 335–346, Aug. 2012.
Yoshihiro Yama and Akinori Ueno: "Unrestrained facile measurement of narrow-band ECG and respiratory variation in infants with a capacitive sheet-type sensor," Transactions of Japanese Society for Medical and Biological Engineering, Vol. 47, No. 1, pp. 42–50, Feb. 2009.
Akinori Ueno, Ken Arai and Osamu Miyashita: "Simulation of Mach-Effect illusion using three-layered retinal cell model and Monte Carlo method," IEEJ Transactions on Electronics, Information and Systems, Vol. 127, No. 10, pp. 1699–1704, Oct. 2007.
A. Ueno, Y. Akabane, T. Kato, H. Hoshino, S. Kataoka, and Y. Ishiyama: "Capacitive sensing of electrocardiographic potential through cloth from the dorsal surface of the body in a supine position: a preliminary study," IEEE Transactions on Biomedical Engineering, Vol. 54, No. 4, pp. 759–766, April 2007.
A. Ueno, S. Kokubun, and Y. Uchikawa: "A prototype real-time system for assessing vigilance levels and for alerting the subject with sound stimulation," International Journal of Assistive Robotics and Mechatronics, Vol. 8, No. 1, pp. 19–27, March 2007.
Laboratory Introduction
We are exploring human-centered man-machine interfaces by analyzing human properties, by applying novel signal processing technologies, or by devising new sensor circuits. We aspire not only to attain satisfactory human-friendly interfaces but also to gain and accumulate scientific knowledge through fundamental studies using the developed interfaces.
Bioelectronic Interface Lablatory