Name
Toshiya Yoshida
Position
Professor
Degree(s)
Doctor of Engineering
Main Subjects
Electronic Circuit Design
Computer Programming II
Presentation Using Computer
Basic Workshop
Electrical and Electronic Engineering Laboratory I
Workshop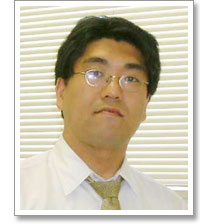 Specialty
Control system
Actuator control
Field of Research
Sensorless magnetic bearings
Control of photovoltaic generation
Academic Society
IEEJ (Institute of Electrical Engineering of Japan)
IEEE (Institute of Electrical and Electronics Engineers)
EPE (European Power Electronics and Drives Association)
Short Curriculum Vitae
Bachelor of Eng., Dept. of Applied Electronic Eng., Tokyo Denki Univ., TDU, March 1994
Masters of Eng., Graduate School of Science and Eng., TDU, March 1996
Research Associate, Dept. of Applied Electronic Eng., TDU, April 1996
Research Associate, Dept. of Electrical Eng., TDU, April 2000
Lecturer, Dept. of Electrical Eng., TDU, October 2001
Associate Professor, Dept. of Electrical Eng., TDU, October 2004
Associate Professor, Dept. of Electrical and Electronic Eng., TDU, October 2007
Professor, Dept. of Electrical and Electronic Eng., TDU, October 2012
Mail
Selected Papers
小玉祐太,吉田俊哉,宮下收:車載用太陽光発電システムにおける最大電力点追従制御の高速化の有効性に関する検討, 電気学会論文誌, vol. 133-D, no. 8, pp. 845–851, 2013.
一川拓人,吉田俊哉,宮下收:固着脱出機能を付加した誘導電動機用インバータ装置, 電気学会論文誌, vol.1 32-D,no. 8,pp. 802–807, 2012.
伊藤聡彦,吉田俊哉:空間高調波を利用したシャフトモータの位置検出法,電気学会論文誌,vol. 129-D,no. 5,pp. 498–504, 2009.
松村一歩,吉田俊哉:バイアス電源電流波形を用いたセルフセンシング磁気軸受の新たな電流干渉補償方式,電気学会論文誌,vol. 129-D,no. 5,pp. 526–533, 2009.
T. Yoshida, O. Katsumi, and O. Miyashita: Simple Control of Photovoltaic Generator Systems with High-Speed Maximum Power Point Tracking Operation, EPE Journal, vol. 17, no. 1, pp. 38–42, March 2007.
Laboratory Introduction
"A new inspiration brings a new application" is our idea. The aim is contribution to industry.